---
2018/2019 Audition Information
*** NEW FUTURE STUDENTS*** PLEASE SIGN UP FOR AN AUDITION BY FILLING OUT THIS GOOGLE FORM***
https://goo.gl/forms/W4mcG1q9wrf0COsA3
Show Choir Audition Song:
Soprano BC Show choir solobcjagchoir.com
Concert Choir Audition Song:
Concert Choir Audition 2018 Alto Bass
Concert Choir Audition 2018 Sop Tenor
2018 Sight Reading Practice/Forms:
BCHS Choir Recommendation Form
For further sight-reading practice, you may use Sight-Reading Factory.
Sight-reading examples will be selected from a level 3-4 difficulty. 1 will be in Major, 1 will be in minor.
Students will be expected to be proficient at these levels for entry into a varsity level ensemble.

SHOW CHOIR Dance Audition: April 16th, From 2:30-7:00 PM **FOR AN APPOINTMENT PLEASE FILL OUT THIS GOOGLE FORM** https://goo.gl/forms/W4mcG1q9wrf0COsA3
Students will sing a solo (provided to your music teachers) and will be taught a dance during this April 16th audition. Vocal Auditions will happen on April 17th for all students new to Boulder Creek Choir.
Note: Show choir candidates must audition on this day—auditions cannot be rescheduled. Students interested in show choir must also sign up for a vocal audition.
Vocal Auditions: April 17th, From 2:30-5:00 PM **FOR AN APPOINTMENT PLEASE FILL OUT THIS GOOGLE FORM** https://goo.gl/forms/W4mcG1q9wrf0COsA3
Students must prepare a short solo. See our selected audition solo, My Country Tis of Thee for Concert Choir, It's My Life for Show Choir. During the audition students will be tested on tonal recognition and sight reading.
Students must be enrolled in the choir elective to audition for an intermediate or advanced level choir
All Students new to Boulder Creek Choir Program should enroll in Chorus. Necessary changes will be made after auditions.
Students auditioning for show choir will need to attend both auditions, students auditioning for the concert choir will only need to audition on Tuesday, April 17th.
---
It takes about 24 people to run each concert performance and we have 9 performances this year. Please click on this link in order to sign-up to help at the concert.
Every year we are recruiting parents to manage the front lobby and supervise the backstage areas during the concerts; we publish and design the concert programs; we handle on-line ticket sales; we provide fundraising for items, supplies, and scholarships not provided by the school; and of course, we assist the Choir Director when necessary.
Please Click on the Link below: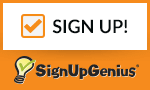 ---
---
---
Broadway Bound Performs at AMEA Convention
On Saturday, February 4th our AMAZING Broadway Bound Performed at the Arizona Music Educators Association (AMEA) Conference at the Marriott Mesa Hotel & Convention Center. What a great honor for our choral program to featured as a performance session at 2017 Convention.
---
Recent Announcements